Features & Highlights
Why you should buy this product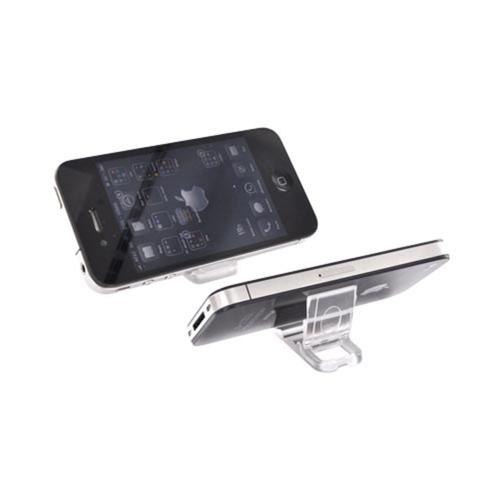 Portable Keychain Kick Stand - Clear
Universal Portable Keychain Kick Stand - Clear Simplicity is the ultimate sophistication. ~ Leonardo Da Vinci. With the Universal Portable Key Chain Kick Stand - Black you have simple sophistication right on your keychain. Bring this portable cell / smart phone holder wherever you go and prop it up for easy viewing anytime and anyplace. It's small, compact and fits right in your pocket with your keys. Universal Portable Keychain Kick Stand - Clear features Small and compact Fits on keychain/ key ring Folds open to use as stand Holds all smartphones vertically or horizontally Made from durable plastic Color: Clear **Phone or device pictured is not included Universal Portable Keychain Kick Stand - Clear
Small and compact
Fits on keychain/ key ring
Folds open to use as stand
Holds all smartphones vertically or horizontally
Made from durable plastic
Color: Clear
**Phone or device pictured is not included
You Might Also Be Interested
Customers Who Viewed This Item Also View
Customer Reviews
Frank Brown
Feb 19, 2017 3:23:47 PM
serve its purpose perfectly!
Such a versatile stand. This is small, simple and has an elegant look. Its very light weight, sturdy and serve its purpose perfectly!
Jack Mcdonald
Dec 28, 2016 8:48:22 PM
happy with my purchased
Very happy with this purchase! This is super cute, clear, handy and sturdy enough to hold my phone safe and securely. Excellent gift!

Julia King
Dec 21, 2016 7:18:25 PM
small and simple
Small and simple. Easy to adjust and travel with. Durable and can hold my phone securely. Great price.
Fiona Gibson
Dec 14, 2016 7:05:36 PM
very handy kickstand keychain
Very useful to support my smartphone at a comfortable angle on the table when I'm sitting. Just bring it anywhere for traveling, very handy keychain kickstand clear. It serve the purpose. Great price!
Mary Jackson
Nov 28, 2016 1:01:04 AM
super cute
Awesome! Super cute Clear keychain and very useful on my Android phone. As a stand it it barely holds the my phone. Worth the price. Highly recommend
Mike S
Nov 10, 2015 5:37:58 PM
Small and Convenient
This little guy works great. Perfect size to carry around.
Write Your Own Review